TE-WB 1.1 & 1.5 Wideband PCB
Previous | WideBand | 1.5 Info | Technical | Wiring | Order | Pre-Built | Kit | Schematic | Construction | Software | 5301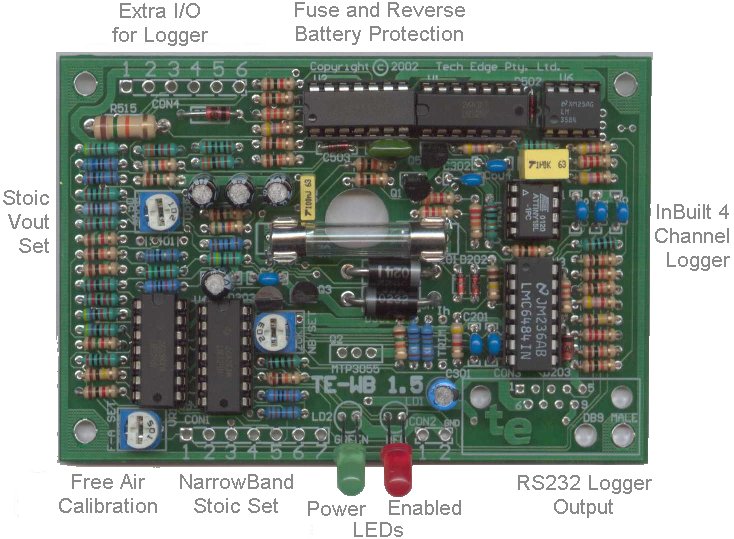 The PCB described below is available in a fully constructed and tested unit form, or as totally DIY kit you build yourself. We are also working on newer versions that will work with the Bosch LSU sensor. This version works only with the NTK L1H1 sensor. If you already know what you want order the TE-WB 1.5 here.
Version 1.5 PCB Features
Ultra low drop out (ULDO) heater regulator operating down to battery voltage below 11 Volts.
Reverse polarity diode protection.
Fuse protects the unit and the vehicle from possible damage.
GREEN power LED and RED Sensor enabled LED.
Adjustment of Wideband stoic Vout set point to exactly 2.50 Volts.
Simulated Narrowband signal with adjustable stoic set point either side of 14.7 AFR.
Free-Air re-calibration fine adjustment for free-air Vout of 4.00 Volts.
RS232 logger with RPM and two extra analogue inputs as well as wideband logging.
Linearised wideband 0 to 5 volt output.
Version 1.1 PCB Features
The above PCB is also offered as the version 1.1 - it has the same basic specifications but doesn't have the logger, nor the linearised output.
General
The PCB has all the features, and similar base specifications to the existing Oz DIY-WB PCB. The PCB is a little larger, there are more components, but they are easier to load and to locate. Resistors are all horizontally mounted, and there is no longer a large 5 Watt resistor. The heater regulator uses a power FET and an op-amp to achieve its very low drop out (usable operational voltage of around 11 Volts down from 13.2). The large hole in the centre of the PCB is for central mounting of the TO-220 regulator in the centre of the heatsink, ensuring better thermal distribution. An extra in-line connector is used to provide the extra input and output signals. The DB9 now carries the loggable RS232 data as well as the original Vout signal, and the new linearised wideband 0 to 5 volt signal.
For more information, see the above links, or go to :
Availability
You can find out the current price of the version 1.1 or 1.5 kit or built unit by following the order link below and filling in a dummy order (you must supply a postal zone to get a shipped price). Please also note the (non-trivial) terms and conditions under which we can accept your order.
You can ORDER version 1.1 & 1.5 from us at Tech Edge.
The groups.yahoo.com/group/oz-diy-wb/ list is for the support of the range of Tech Edge DIY-WB products.
Version 2.0 - LSU support, May/June 2003

We are working on version 2.0 which is a fully digital unit that will support the Bosch LSU 4 as well as the NTK L1H1 UEGO sensor. Version 2.0 looks to be released some time in late May/June 2003. The main impetus for this version is the presently limited availability of the NTK L1H1 sensor, and the use of the LSU on some new vehicles, making it potentially a cheaper sensor.
Future Version 1.x ???
Some comment that we rapidly change the products we offer. We take this as a compliment as we always aim to incorporate the latest improvements that will provide our customers' the best price/performance ratio.
In response to some users' suggestions, we are considering offering a slightly more accurate version 1.x unit in the same timeframe we offer the 2.0 version. We are considering whether version 1.x will have support for the Bosch LSU, and whether it will have built in logging or a new display. As of mid March 2003 we have no firm plans to produce this product, but offer this information in case you're thinking about purchasing now or later. We can provide no additional information until we make a public announcment both here and on the groups.yahoo.com/group/oz-diy-wb/ list.
---
Last updated 18 April 2005 | Tell me about broken links

Previous | Home | Wideband | Copyright